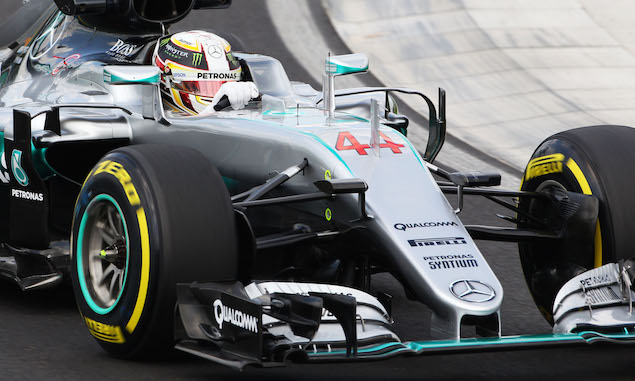 Lewis Hamilton says his crash during FP2 for the Hungarian Grand Prix was due to new kerbs on the entry of corners.
The defending champion lost control of his car on the entry of Turn 11, sliding sideways across the run-off area and hitting the tyre barrier. Although Hamilton was able to limp back to the pits, the severity of the impact - which was recorded at 10.4G on the television graphic - meant Mercedes needed to strip the car down to check for damage, ending his session.
Hamilton said an entry kerb was to blame for him losing control, which left him with very little running in FP2.
"Well they've got those new white kerbs," Hamilton said. "I think I put my rear wheel just slightly over that white line and touched that kerb, they're very slippy – I don't know why they've put them there to be honest, it was fine the way it was before.
"I hit the wall perfectly sideways so I was able to pull away. I just overloaded the wishbones, it didn't break anything,  but rather than go out and have one of them fail we didn't go back out."
However, Hamilton clarified it was his mistake for using the kerb on entry.
"No, I don't put it down to the track, it was obviously me putting the wheel in the wrong place. I prefer the way the track was last year but it is what it is. It doesn't change the direction of the track or anything, it's still an amazing track, but it just feels a bit different.
"That kerb… They put a couple of kerbs in places they weren't there before on the entry of the corner or on the outside. They are not normal kerbs either. Anyway, I touched that and that's what send me off. Hopefully tomorrow will be a better day."
With team-mate Nico Rosberg going on to set the fastest time of the afternoon session, Hamilton is confident he won't be too hampered by his own lack of running.
"Well, time will tell. I think Nico had a pretty good run so I can obviously study that. The pace was feeling quite good, I was having good pace up until then.
"For sure it's just about getting in the swing of things, and when you miss a session that's what you miss basically. So today I missed the long run so when I get into the race will be the first time of really attacking and seeing how long I can make those tyres work."
REPORT: Mercedes advantage cut after Hamilton crash in FP2
Silbermann says ... Birds on the wire
Romain Grosjean column: Safety car starts and summer breaks
Chris Medland's 2016 Hungarian Grand Prix preview
TECHNICAL: Under the skin of the Mercedes W07
Keep up to date with all the F1 news via Facebook and Twitter