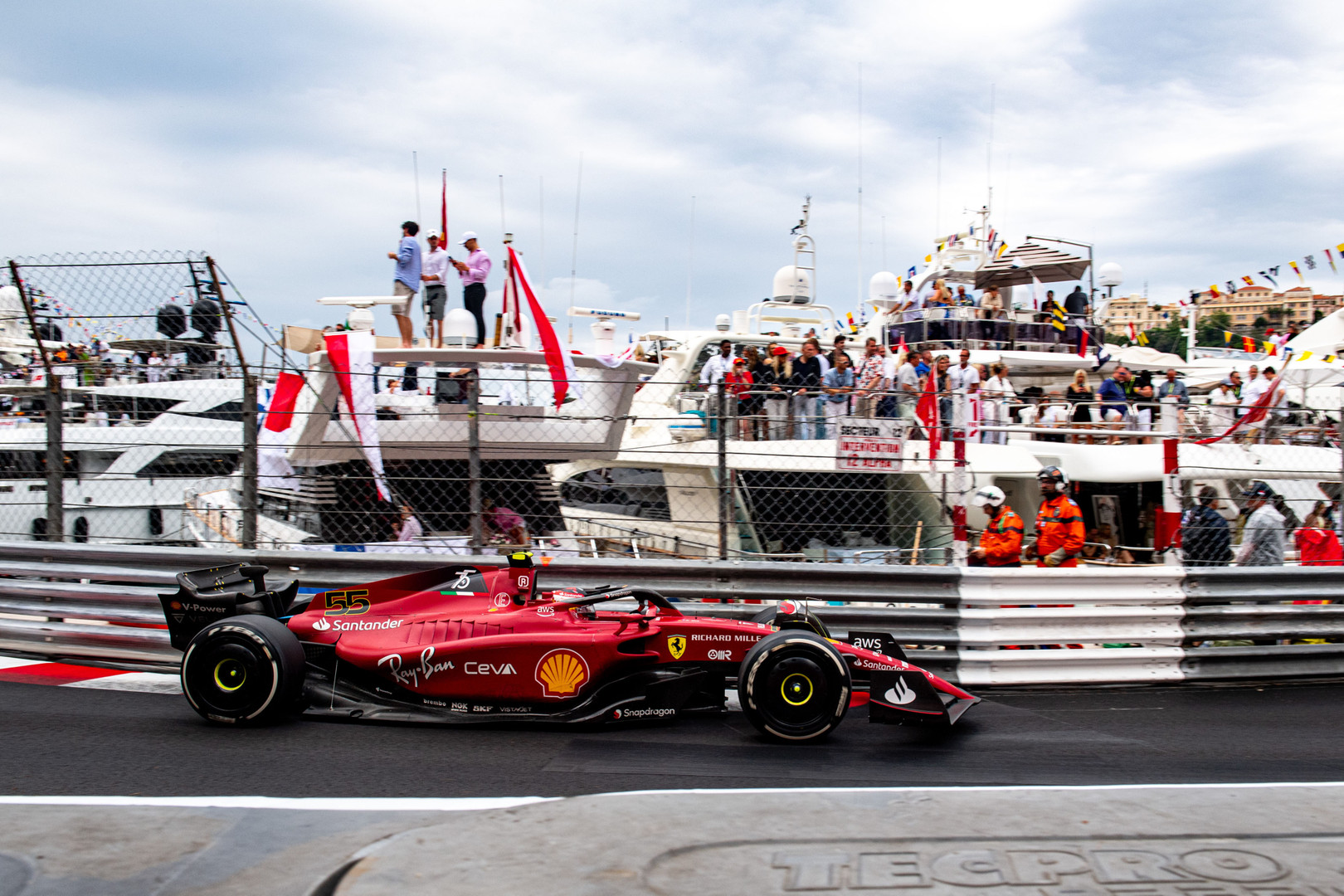 Carlos Sainz (P2, 18 pts): 9/10
It has been a bit of a rocky season for Carlos Sainz, who has been forced to take a back seat to his Ferrari team mate, but he's perked up in recent weeks with a podium in Miami and fourth place in his home race in Spain after Leclerc's retirement. This week he looked very much back in the mix, just seven hundredths slower than Leclerc in FP1 which he trimmed to 0.044s in FP2. It looked like Sergio Perez might get the edge in qualifying but Sainz was up to the task of helping secure the second Ferrari 1-2 front row lockout of the season. The most significant moment of Sunday's race was when Sainz vetoed the team instruction to pit for intermediates at the same time as Leclerc, preferring to stay out long enough to jump direct to the hard slicks. Although it wasn't quite enough to fend off the threat from the fast-reacting Red Bulls, it was enough to secure second for Sainz. He felt the win had been in his grasp if not for getting held up behind a slow backmarker on his crucial outlap. Despite throwing everything into passing Perez in the final laps, victory just wasn't meant to be this time. But the fact that he was so disappointed with second place is actually a good sign - that first win can't be far away now.
Sergio Perez (P1, 25 pts): 9.5/10
Sergio Perez was not happy in Spain when team orders were imposed to make sure his Red Bull team mate Max Verstappen picked up the win at his expense. Was this how it was going to be for the rest of the season? The perceived slight seemed to ignite the afterburners deep within Perez, and he arrived in Monaco with a point to prove. Second fastest in FP1 and quickest of all in FP3, he narrowly missed out on a front row starting spot. He'd been quicker than Verstappen throughout but Perez must have had the thought in the back of his mind that come the race he would be expected to give way and play the loyal wing man again,. Initially at least the leaders maintained position in the tricky wet conditions at the start. Perez was the first of them to pit for inters - the team perhaps using him as the 'canary in the coal mine' to test the waters for Verstappen - but in fact it was just the break Perez needed. The inters gave him more speed and by the time everyone piled back into pit lane for slicks on lap 22 Perez was firmly in command. Best of all, Carlos Sainz was between him and Verstappen meaning that the Red Bull pit wall couldn't start issuing orders for them to trade places. As the clock counted down, the dazed Perez realised that this was actually happening: he truly was a Monaco race winner, his third career GP victory also making him the most successful Mexican driver in F1 history. It couldn't happen to a more likeable or deserving bloke: and no one is ever going to underestimate Checo again in the future.