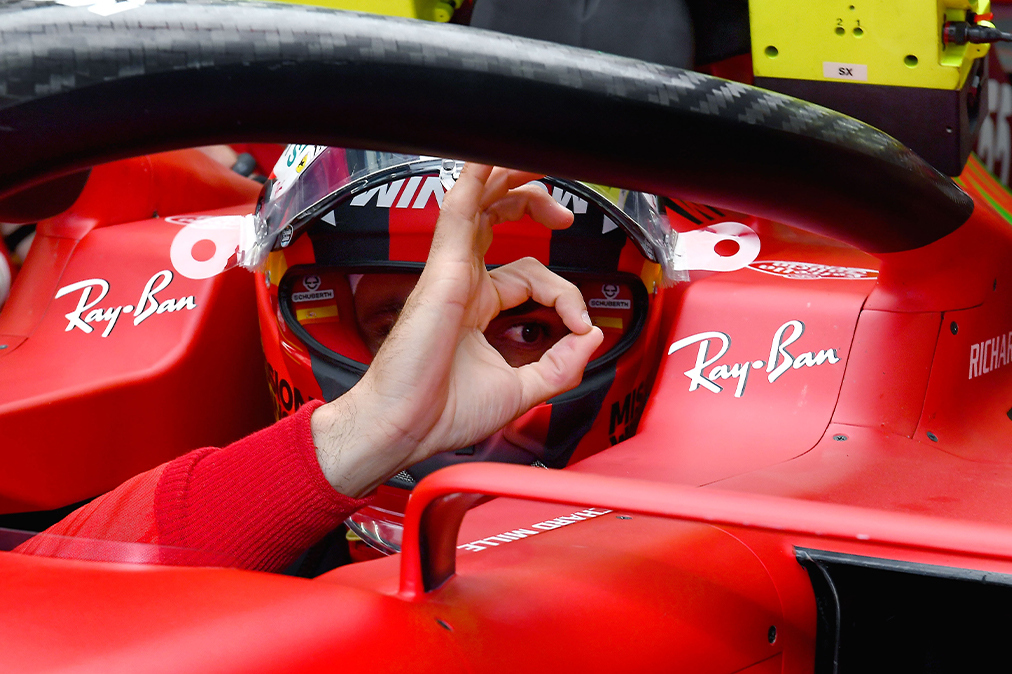 Carlos Sainz (P8, 4 pts): 8/10
If there were any concerns that Carlos Sainz might have a tough time adjusting to life at Maranello, they were dispelled by the end of the first day of practice in Bahrain when he finished fourth fastest and comfortably ahead of Ferrari team mate Charles Leclerc. He stayed ahead in FP3 but narrowly lost out to the Monegasque in qualifying although he still made it through to the final pole shoot-out round, meaning he began the race from eighth. He took an admittedly cautious approach to the start and lost two positions as a result: "I was curious to see how the car reacted in the dirty air of a race start," he said later. "I knew I would have the opportunity to fight back once I got into my rhythm." Sure enough he was up the dizzying heights of third place by the time he made his first pit stop on lap 14, and after that he settled into eighth place for much of the rest of the evening and duly picked up four points for his efforts. A good base from which to build, and confirmation - along with Leclerc's own sixth place finish - that Ferrari is back in business in 2021 and likely to be an increasing threat as the season goes on.
Daniel Ricciardo (P7, 6 pts): 8/10
Another driver wasting no time adjusting to a new working environment, Daniel Ricciardo had the satisfaction of narrowly pipping the driver he'd replaced at McLaren over the winter. His new team mate Lando Norris stole the limelight with top three performances in both of Friday's practice sessions, but Ricciardo was the man on the move on Saturday and he pipped Norris to sixth on the grid in the final round of qualifying by 0.047s. That rather suggests that the pair are going to be a well-matched and productive drive-line-up at Woking. But it could also prove to be a combustible pairing and neither man held back as they vied for position on the opening lap of Sunday's race: Norris came out on top of that spat wth Ricciardo receiving a nudge from Pierre Gasly. He never had the chance to even the score with his team mate during the rest of the race, and while Norris went on to claim the scalp of Charles Leclerc, Ricciardo found himself stuck behind the Ferrari for long stretches of the race. "I wasn't that impressed with my race, we couldn't find the pace, [but] overall it's been a good weekend," he summarised. "We can't complain with that result."