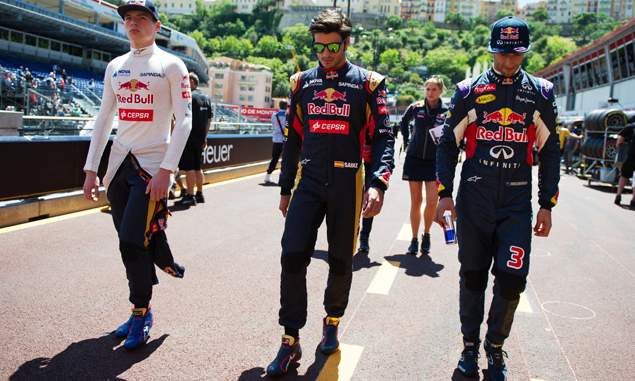 Toro Rosso team manager Franz Tost tells F1i that Red Bull's junior programme is "more than fair", while making no bones about dropping drivers that fail to match expectations.
Although the energy drinks giants has helped a slew of pilots graduate to Formula One – most notably four-time world champion Sebastian Vettel –, the Helmut Marko-led scheme is also known for its high demands and ruthless nature.
Red Bull protégés are usually placed at Toro Rosso to learn the ropes for a couple of years before graduating to the parent team, like Daniel Ricciardo and Daniil Kvyat did over the past two seasons.
However, other Red Bull-backed drivers – Sebastien Buemi, Jaime Alguersuari, Jean-Eric Vergne – never made it to Milton Keynes and Faenza turned out to be both the start and end of the line for their careers in the top flight.
"That's Formula One and I think Red Bull is more than fair to all its drivers, because it provides them with fantastic possibilities with all the necessary ingredients that they need to show what they are capable of," Tost told F1i's Eric Silbermann.
"If, after that they can't improve or Red Bull has the feeling that their performance is unlikely to improve beyond that in the future, then it's clear they will be replaced by another driver. But that's normal in Formula One, that's the way it is."
Red Bull seems to have unearthed another pair of genuine talents in Carlos Sainz and Max Verstappen, but year two usually means make or break for Toro Rosso hopefuls.
Despite the stakes becoming much higher for his drivers in 2016, Tost is confident both will be able to cope with the situation.
"Maybe, in the early part of the year, we must be careful not to push them too hard, because sometimes, in a driver's second season with us, they can think they must demonstrate a clear step up in performance.
"The result of this attitude is that they then tend to overdrive the car. However, I believe this will not be the case with Carlos and Max, because they gained the necessary experience last year. Therefore I am more than positive about 2016 from the driver point of view."
F1i exclusive: Tost "more than positive" about Toro Rosso drivers
Feature: What lies behind Honda's miracle power unit gains