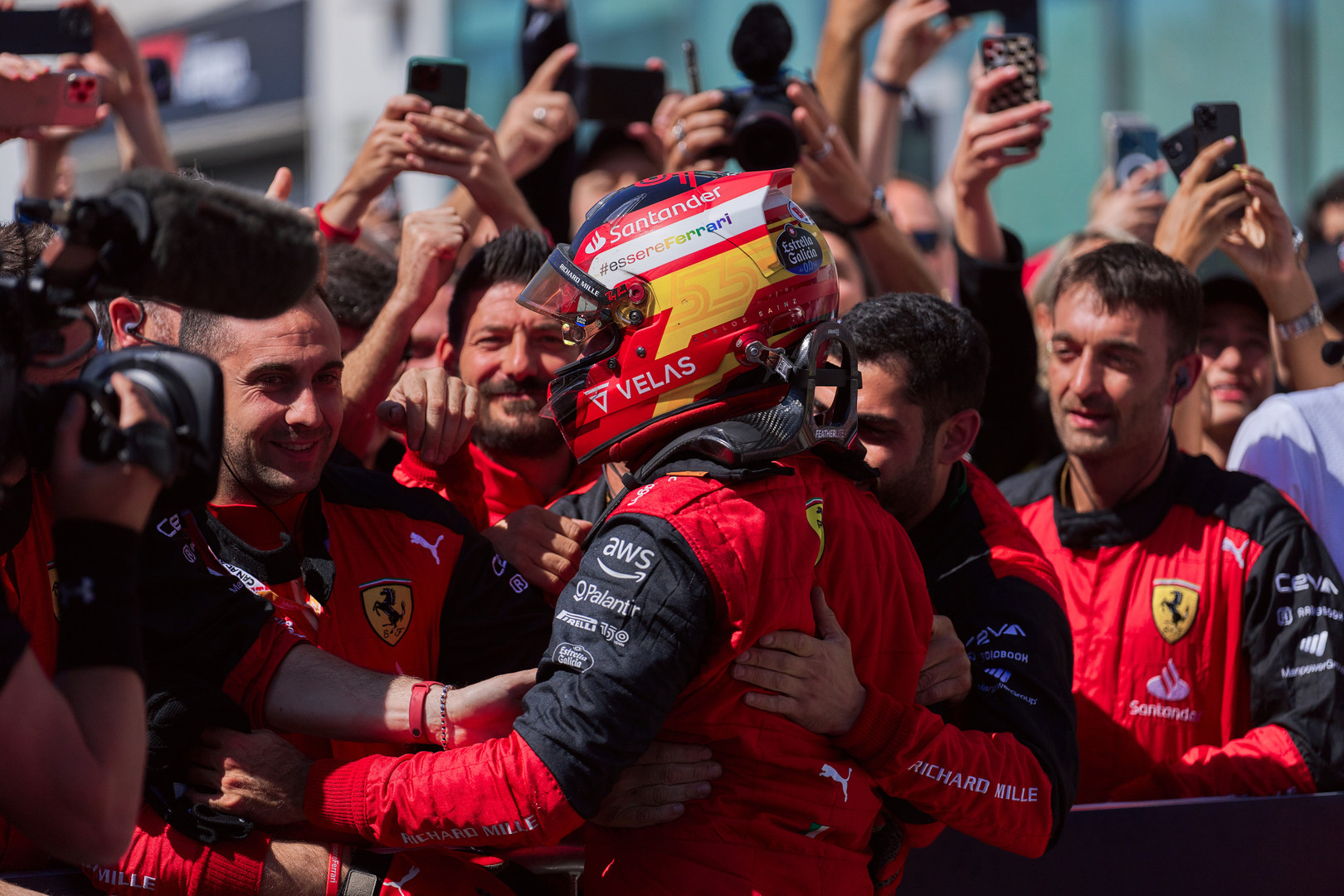 Carlos Sainz (Fastest lap, P2, 19 pts): 9/10
With Ferrari already certain that Charles Leclerc would be out of the running this week due to a boxset of grid penalties after his engine blow-up in Baku, it was down to Carlos Sainz to fly the Ferrari standard into battle this week in Canada. And while this season hasn't always been the best for the Spaniard, he was emphatically up to the task here. He was second in FP1 and still in third later in the afternoon, and while it was a bit more hit and miss once the rain fell on Saturday he was still in the top three in all three rounds of qualifying. He wasn't pleased to be pipped to the front row by Fernando Alonso, but knew it wouldn't take long to take care of business when the lights went out on Saturday (lap 3, for the record). After that the main focus of the afternoon was taking on Max Verstappen. Staged pit stops put him into the lead twice for a total of 17 laps, but it would have been folly not to take on fresh tyres behind the safety car even though it dropped him back to second. He threw everything into attacking Verstappen in the remaining 16 laps in a wonderful display of attacking motor racing, but the Red Bull would simply not give way and so Sainz was made to settle for second.
Max Verstappen (Pole, P1, 25 pts): 9.5/10
Max Verstappen has looked oddly off colour in recent weeks, at times even coming out second best to his Red Bull team mate Sergio Perez - although even an off-colour Max has proved perfectly up to the job of securing four wins in five races with just a dash of team orders here and there. He made it a sixth on Canada and this time he was made to earn it and duly proved himself to be more than up to the challenge of a feisty Carlos Sainz. Having been fastest in both of Friday's practice sessions, Verstappen appeared a little disinterested in acclimatising to the wet conditions of final practice - and fair enough, because in the afternoon he topped all three rounds to win pole by whopping 0.645s over Fernando Alonso. The race broadly went to plan, although going for an early pit stop under a Virtual Safety Car for Perez' retirement was probably not the best idea and meant he had to give up the lead again for a second stop on lap 43. He was slightly fortunate to get it back when Sainz came un under a safety car but that meant the Ferrari was on fresher tyres which kept Max on his toes for a hard-fought final 16-lap battle. But in truth, Verstappen never looked like he would buckle under the pressure and he was able to start counting those precious championship points long before the chequered flag came out.