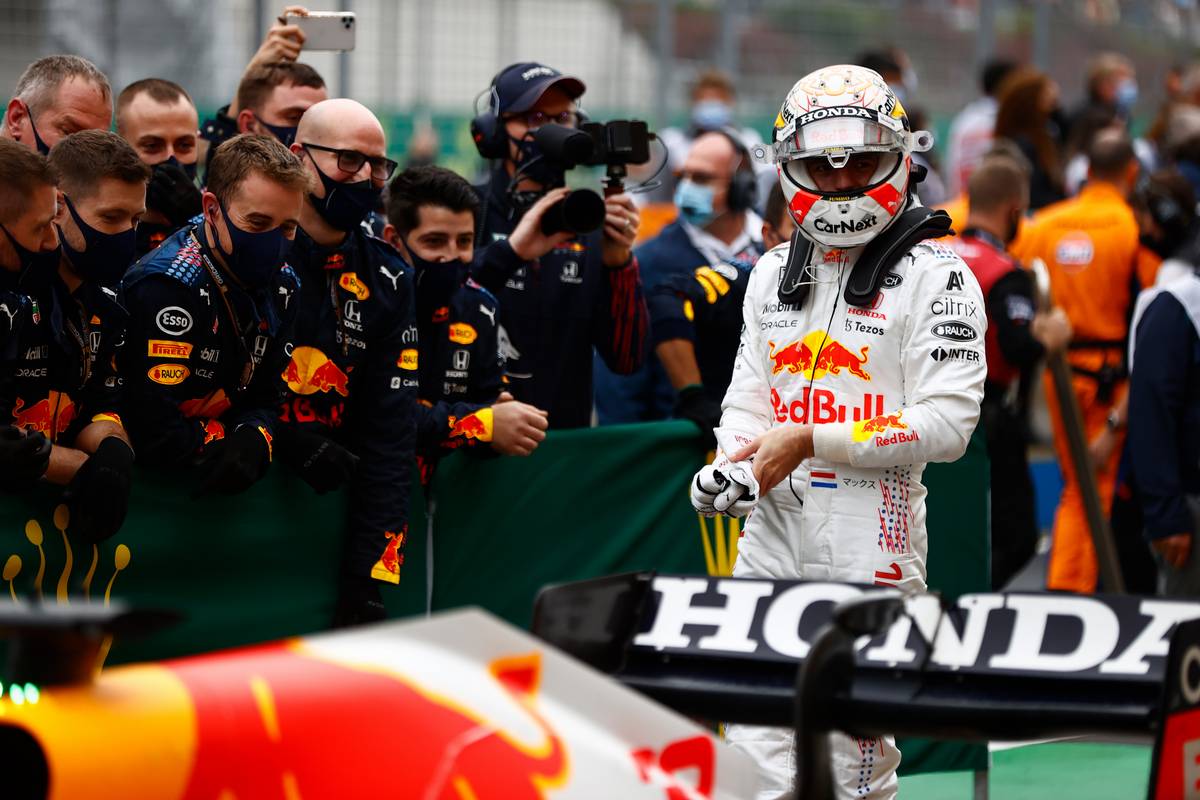 Max Verstappen (P2, 18 pts): 8.5/10
Given how much was at stake this weekend in terms of the championship, Max Verstappen was remarkably passive in Turkey with all the drama swirling around him but seemingly never touching him directly. He was second quickest in FP1 but slipped back in FP2 suffering from snaps of oversteer in the corners, resulting in his being pipped for once by his Red Bull team mate Sergio Perez. There was little such drama on Saturday where he finished qualifying in third place, which meant he was promoted to the front row by Lewis Hamilton's engine change grid penalty. You'd have thought that this would have handed Verstappen a golden opportunity to blitz Valtteri Bottas for the lead into turn 1, but instead it was a slightly sluggish start with the Red Bull meekly slipping into line in second place which is where it remained until the pit stops. The first of the leaders to pit, the safety-first approach put Verstappen back up in second by lap 48 and then it was a quiet Sunday afternoon drive in the Turkish countryside all the way to the finish line. Asked after the race what his biggest problem of the day had been, Verstappen responded: "Staying awake!" One suspects that this wasn't entirely a mere quip.

Valtteri Bottas (Pole, P1, Fastest lap, 26 pts): 9.5/10
Last time out in Russia, historically one of his best circuits, Valtteri Bottas appeared somewhat demotivated as he trudged to fifth place. Conversely this week in Istanbul - where last year he had an absolute nightmare with five spins during the race - we were treated to Bottas at his absolute meticulous best. While he denies backing off in qualifying to ensure Lewis Hamilton was quickest in order to mitigate his team mate's ten-place grid drop, Saturday was the best outcome for the team as a whole with Bottas inheriting pole for the race. A perfect start when the lights went out saw him comfortably into the lead after which he quickly pulled away from Max Verstappen to control the race for the rest of the afternoon. There was nothing he could do from where he was to assist Hamilton further, and so he just got on with the job at hand. With the exception of one slightly lurid slide midway through the afternoon it was a simple matter from that point on that left him cruising across the line 90 minutes later to secure his tenth career victory with Mercedes. If it does prove to be the Finn's last win for the team before he moves to Alfa Romeo at the end of the season, then he's definitely succeeded in going out in style.